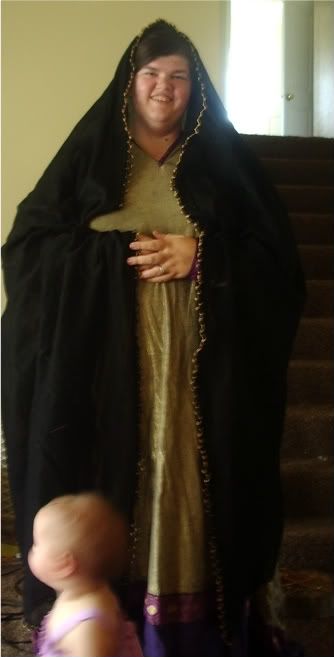 Since you've already seen the trim close up, there's not much to say about the veil other than I made some big black tassels for the corners and added it to a big rectangular veil. Took forever for such an easy project. That's the hazards of making your own edgings I suppose. It just sucks up the time. I'm happy with it though. The edging weights the veil nicely and the tassels are fun.
The blurry baby at the bottom of the picture is my youngest daughter Elora putting in an appearance. I guess she felt left out since her twin brother had dropped in a few weeks ago. That, and the fact that she is a new walker and just needs to be EVERYWHERE these days.
I cut out the panels for the skirt yesterday and seamed them together, so today's project is pleating them to the bodice. Since the bodice is complete as it is, I'm trying to decide if I want to put the skirt onto a separate waistband or not. I had considered keeping them as two different pieces for flexibility reasons, but after fussing with trying to keep the petticoat and bodice without gaps at the wedding last weekend, I'm certain I just want a dress. It did nix the train idea, however. If the skirt is permanently attached the train is probably not the most functional option. My husband also pointed out the fact that the kids are bound to stand on it and create problems. The velvet skirt has a hem measurement of 250 inches as is so its rather heavy to start with. Should be plenty full.
I want to do some more work on the balzo soon and have bodice laces to braid-- I've already set up the braid on my marudai, just need to do it. I've been playing around with cooking with roses for the last day or so and its had me distracted. The house smells wonderful though. I do need to buckle down and sew since I've got my sister in law's wedding this weekend so not much will get done over Saturday and Sunday. The contest deadline is creeping up, and my own personal deadline of having most things done by Baron's War on July 22nd is closing in. Ack!