If you happen to have 45 minutes and any interest in Renaissance Italy or clothes, you should have a look at this video of a talk given at the Met by Dr. Sheila Barker.
Prunes, Pearls and Malara: Behind the Scenes of Bronzino's Double Portrait of Eleonora di Toledo and Giovanni de' Medici.
I've watched it obsessively over the last couple of years more than once. From it we learn that THE dress took more than 3 years to design and make. We are also told that the fabric cost 390 gold scudi for 46 bracha (about 27 meters.) A gold scudi has about 3.5 oz of gold in it. Just for kicks, you should know that the price of gold today is $1,228.30. It is difficult to translate money directly, especially as the cost of living then was about 20 times higher for luxury items like clothing and things we find easy to manufacture and purchase were more difficult while other items were vastly cheaper, but a ballpark is about $48,000 (Dr. Barkers number) for the fabric in coin value (not the value of the gold.) Eleonora chose this fabric from a selection of samples in July of 1540. She kept 10 bracha for her own dress and used the rest as gifts. For those keeping track, 1 bracchio equals 2 palmi. Or, for a bit more ease, a Florentine bracchio is .583 of a meter. A Venetian bracchio was .683-- just to make things more confusing. That means a bracchio is about .638 of a yard. So, Eleonora's dress was made with about 6 1/3 yards of fabric. So hey, she actually used less than 1/4 of the total fabric. Perhaps the fabric cost was probably closer to $12,000. Especially since her father sent her over 200 scudi two years after she sent some of the fabric to her sister as sort of a payment for gifts given.
I tend to buy 10 yards a dress, so I'm feeling rather profligate regarding my fabric use. Granted, Eleonora was closer to 5'3" and I'm 6'1." But, as I've learned in looking more closely at Algega and other tailor's books, my layouts aren't as tight as they should be and I make my skirts too full. I hope to remedy some of that with this project, but I do love a twirly skirt.
On the other hand, while I will not be spending $12,000 on my fabric, I will be spending a crap ton of time making it, so keeping the yardage to a minimum is probably a solid plan and I'll be doing some mockups of the dress. Part of that is also a sizing worry I've got. I had surgery last summer for weight loss and am down about 160 lbs. I've been stalled for a couple of months, but my size and shape are still in flux and I don't have a good tried and true pattern for me at this size. So I may figure out printing the fabric and let it rest a bit to wait until I can be sure it'll fit come August.
But, back to the fabric. I threw a few ideas out yesterday about possibly gilding or flocking. I'm also considering if whether a combination of techniques with some couching of gold threads might be in order. I'm not sure yet what is going to happen. Some testing is going to have to happen. In the meantime, lets talk about what techniques can be documented for block printers.
As we saw yesterday, regular block printing is definitely being used in Italy. When I did my
first experiments
with
block printing
clear back
during IRCC II
with what became my drawers and a
soccacia
I mentioned our good friend Cennino Cennini and the ever present Craftsman's Handbook. He discusses methods for block prints and painting fabric. Extant examples exist for the 16th century, like the LACMA piece I posted. Additionally, there become finer examples of printing on fabric with engraved plates via printing press. The other two examples I posted yesterday were done this way. I've been messing around with acid etching for the last couple of weeks and I may try out printing with a plate if I can get a way to get the pressure right. The other thing I want to try is flocked printing.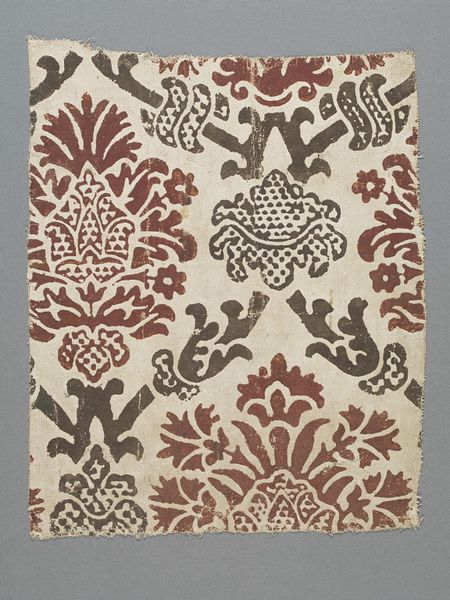 http://collections.vam.ac.uk/item/O257815/furnishing-fabric-unknown/

There are written references to this being used to create ecclesiastical textiles in Italy. I don't happen to have located any extant fabrics yet, but
here is an example of a Danish fabric done in imitation of an Italian Velvet
with wool flocking. It's held at the Danish National Museum. Go read Mathilde Girl Genius snippets about it and look at the pictures. There's also this fabulous French piece done with mica sprinkled over block printed glue in the V and A. It just so happens to be a dead ringer for an Italian cisele velvet used as an altar frontal. You can take a peek about half way down the page of extant fabrics
Bella has posted
.
I've got some hide glue on the way as well as carving materials to make large blocks so I can start testing out printing options. In the mean time I'll be drawing up sketches, squinting at the portrait, flipping through the entirely too many modelbuchs I have and trying figure out what embroidery design I'm doing for the camicia.