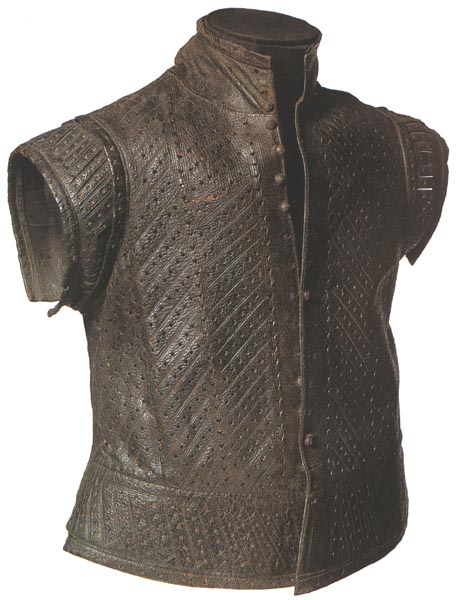 I'm having a moment of serious anger at myself with this one. Nothing seems to be going how I want with this particular clothing item and it may end up in a time out. This is supposed to be the back of a leather jerkin based on this
extant one in the Museum of London
See how beautifully subtle that is? I can't tell if the lines are tooled or branded, but they stand out nicely from the background. And the holes are shaped punches. I bought some shaped punches in stars, hearts, diamonds, teardrops, and a dozenish other shapes.
First thing I did was cut out my doublet shape and take a ruler to it. I drew the lines in with a pencil. That seemed to go reasonably well and I was impressed. Then, I took a soldering iron and went over the lines. When I finished that and touched it I was still reasonably happy. Then I let it sit for a bit.
And this is when the project turned. I pulled out the punches and realized that they were not even moderately sharp. Fifteen or so hits with a mallet and it kinda sorta went through. So, okay, sharpen them. I pulled out jewelers rouge and a hone and I thought I had it in hand. That didn't go as well as would be hoped. They were better, but still not working well enough to be a possibility for the hundreds of holes that needed to be made.
I do, however, have a
Craftool Hand Press from Tandy Leather
that I got awhile back to put round holes in my lamellar armor after yelling at how hard it was to do that many holes in that many plates. And I paid a lot of money for the convenience. So I figured that was a good solution. No stars or hears or diamonds, but there would be holes.
So I punched bunches of holes in the jerkin. At which point I determined that the soldering iron lines just weren't showing up well. Its a result of using grey leather, but it is the right color heraldically and I got a killer deal ($15 a hide, which meant I only had to spend $45 on leather for this, this making it a possibility at all.) So I figured gilding leather is a reasonable thing. Paint brush came out. There are some grooves there due to the soldering iron and the paint was catching them reasonably well. Not great and I wasn't totally sold, but it wasn't going to come off so I kept going. And then I painted the diamonds up top. And I hated them. So then I pulled out the black to fix it a bit. Yeah. That's where FAIL! happened. But I kept going, because there didn't seem to be an option. Sigh.
Maybe I can sand it off. . .